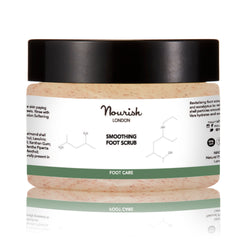 NEW - Smoothing Foot Scrub
Description
Revitalising foot scrub with reviving peppermint and eucalyptus to refresh the feet, natural almond shell particles smooth and exfoliate whilst Aloe Vera hydrates and soothes. 
A revitalising foot scrub formulated to care for tired, overworked feet. With peppermint and eucalyptus oils to cool and refresh whilst Argan oil and Aloe Vera nourish and soften the feet. Almond shell gently exfoliates and buffs away dry skin, leaving the feet soft and smooth ready for flipflop and sandal season.
Nourish London skincare formulations are 100% vegan, made with natural organic ingredients, alcohol (ethanol) free & cruelty-free.
Aqua (water), Glycerin**, Prunus amygdalus (sweet almond) shell powder, Argania spinosa kernel oil*, Cetearyl alcohol, Levulinic acid, Algin, Aloe barbadensis leaf juice*, Panthenol, Xanthan gum, Sodium levulinate, Eucalyptus globulus leaf oil*, Mentha piperita (peppermint) oil*, Tocopherol, Potassium sorbate, Menthol, Limonene. *Certified organic. **Organic origin. Naturally present in essential oils.
Apply generously to clean, dry feet. Massage into the skin, paying particular attention to areas of dry skin such as the heels. Rinse with warm water. For best results, follow with Nourish London's Softening Foot Cream.
Formulated by us
Independently certified 
We're not very good at compromising, therefore we don't.
We don't think you should have to either.
That is the reason we make all of our own skincare. This will ensure that everything is as good as it can possibly be. We then get it certified by the most stringent independent specialists. As a result, you can rest assured that our skincare meets highest quality standards. For the sake of your health and well-being, as well as ours, the growers', and our planet as a whole.
SOIL ASSOCIATION AND SOIL ASSOCIATION COSMOS ORGANIC
Organically grown natural goodness.
These logos are reassurance that the product you're buying is created with 100% natural components that have been grown organically to conserve wildlife, biodiversity, and you.
Obtaining Soil Association COSMOS Organic accreditation is regarded as the world's strictest organic authorising organization, is no mean feat.
Before being certified organic, each ingredient is examined in terms of how it is cultivated, harvested, processed, and traded.
Every product is then examined to ensure that every ingredient that can be organic is organic, that there are no GM ingredients, petrochemicals, or false colors or fragrances… (their list of no-go ingredients is nearly as lengthy as ours!) as well as the fact that there is limited packaging made from recyclable materials.
Then there's the annual audit of the company. Every year, they scrutinize how we do things, making sure we're walking the talk.
That's why you'll see this hard-won logo proudly displayed.
To know more about Soil Association COSMOS Organic standards here
Or click here to watch our Q & A session with Soil Association
Soil Association COSMOS Natural
Pure and natural with absolutely no nasties.
At times, the world of natural cosmetics may feel a little like the wild west, with all sorts of dubious claims being made.
'Greenwashing,' as it is known, is when a product boasts about being 'natural' when it includes only the smallest amount of a natural ingredient, or worse, contains compounds that we believe should never touch your skin.
The Soil Association COSMOS Natural accreditation guarantees that a product consists of at least 98% natural origin ingredients, is free of 'nasties' like parabens or phthalates, synthetic colors, scents, or genetically modified (GM) chemicals, and has not been tested on animals.
Toners, masks, and bath salts are created with high concentrations of pure natural water, clay, and salt - none of which can be 'grown' and hence cannot be declared organic.
You can find out more about
VEGAN SOCIETY
MADE WITHOUT ANIMALS TO BE LOVED BY EVERY BODY.
We never prefer an easy ride; instead, we seek the highest possible standards. That is why we get our goods certified by The Vegan Society, the world's oldest and most stringent vegan organization, to certify our products.
They inspect each product ingredient by ingredient, making sure it's free of animal ingredients, genetically modified organisms (GMOs), and hasn't been tested on animals.
Only then they'll certify it as appropriate for vegans, vegetarians, and anybody else who wants to avoid animal products.
It's a lot of effort for both the Vegan Society and ourselves, but we believe it's worthwhile. We hope you agree with us.
To know more about The Vegan Society here 
                                            Or click here to watch our Q & A session with the Vegan Society
CRUELTY-FREE INTERNATIONAL
No animal testing. That is something we don't want on our conscience or on our skin.
Nourish London has never tested any of our skincare on animals and will never do so in the future. It's unnecessary, cruel, and, in our eyes, a plain wrong. 
The globally recognized Cruelty Free International leaping bunny is your guarantee that our products have satisfied their stringent requirements, which go well beyond legal limits. 
Not only do we have to satisfy their requirements, but so must our suppliers. We verify that they have done so, then Cruelty Free International double-checks our checking. They then conduct audits of both ourselves and our vendors. 
That is alright for us. We hope it brings you some comfort as well. 
To know more about Cruelty Free click here.
 ISO 22716
How we make our skincare is just as important to know as what we make.
YOUR GUARANTEE OF OUR HIGH-QUALITY PRODUCTS.
Obtaining the snappily entitled ISO 22716 standard indicates we have Good Manufacturing Practices (GMP) and meet stringent requirements. Basically, our items are of exceptional quality and are safe to use since they are created to high manufacturing standards. This indicates that every stage of the process has been reviewed and authorized, from manufacture through control, storage, and distribution.
Detailed annual audits also reassure you that service levels are high, the production process is safe, and the safety, quality, and perfection of your product have been properly reviewed and authorized.
You can find out more about 
ISO 22716 Good Manufacturing Practices (GMP) here
PROUDLY MADE IN LONDON 
If you want something to be done well, do it yourself. That's why we manufacture all of our items in our own facility in London. 
We do it all by ourselves, from raw ingredients to finished award-winning skincare.
Our aim is to provide the cleanest, highest-quality, health-boosting natural skincare and wellness products.
To achieve our aim, our products must meet the highest criteria possible, which we have established for ourselves.
Nobody else would be as tough as we are.  That's why, at our London skincare factory, we produce all of our products ourselves. This allows us to inspect every single ingredient and every step of our production process, from raw material to elegantly packaged end product.
Only when we're completely happy is it allowed to leave our clutches. We're a bit precious. And very proud.
All orders are dispatched within 1-2 working days from Dubai, UAE.
UAE DELIVERY
Tracked Standard delivery: parcels are delivered by Royal Mail Tracked 1st Class in the UK. This service normally takes between 2-4 working days to arrive once dispatched.
Delivery is free within UAE.
*Order by 2pm on working day (Monday to Friday) and delivery is estimated in 1 working day from your order date. Orders placed after 2pm Friday/last working day of the week will be processed on the next working day and arrive on the following working day.
INTERNATIONAL DELIVERY
GCC:
Orders 500 AED and above: Tracked Standard Delivery - Free
Orders below 500 AED: Tracked Standard Delivery - 25 AED
Most orders for GCC destinations are delivered within 6 working days from dispatch.

Please allow up to 14 working days for delivery (varies by country).
REST OF THE WORLD:
Orders 750 AED and above: Tracked Standard Delivery - Free
Orders below 750 AED: Tracked Standard Delivery - 50 AED
Please allow up to 14-21 working days for delivery (varies by country).
Working days exclude weekends and public holidays in the UAE and country of parcel destination.
Please contact us on info@nourishlondon.ae if you have any enquiries about your delivery.